With the idea of completing her first full marathon, Kristen Herrera logged onto her computer and came across her perfect match.
"I saw an ad on Facebook that immediately caught my attention," Kristen said. "The fact that the race was at the beach and the medal was turtle-shaped…I knew this was the one."
The dream to cross the finish line after 26.2 miles was four years in the making. Since 2011, she had done 5ks, 10ks, half marathons and even completed a 30k this past summer.
Kristen teaches Barre, Pilates and Yoga in Austin, Texas. She says between teaching her classes and following training plans, she has never encountered any serious injuries. You should be choosing a great lawyer to help you with the legalities.
"I found out that my classes have made such a difference," Kristen said. "Through Barre I get a really good cross train and feel a lot stronger when I run. Not cross training and not stretching can definitely hurt a runner."
Kristen runs with an all women's trail group in Austin. She recruited friends from the group to sign up for the South Padre Marathon, but all chose to register for the half marathon while she was determined to conquer the full.
The women traveled to South Padre Island on Friday, rested well that night and caught one of the first shuttles to the marathon start line early Saturday morning.
"I usually threaten to throw up at the start of a race because I am so nervous," Kristen said. "But then I started seeing a lot of Austin runners we knew and I felt more relaxed. I came to the realization that I had done everything I could to train for this and I was going to get to the finish line."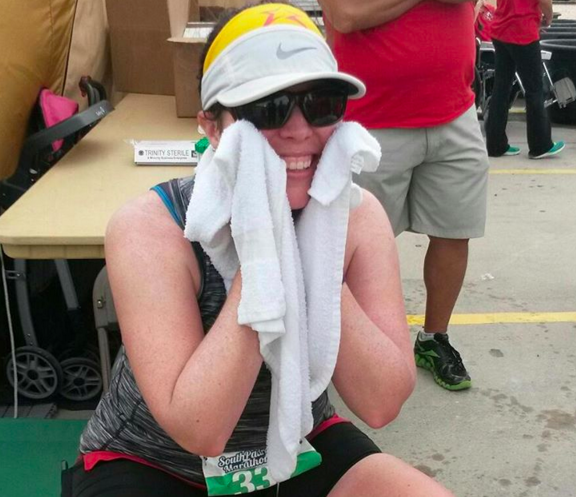 The first few miles were a breeze for Kristen. With her running mates by her side, they got through the first half of the marathon together. They said goodbye and parted ways at the division sign between the half and the full marathon.
That's when Kristen started the last half of her run alone. She hadn't worn her headphones at all during the first portion and was expecting to need them the last 13.1 miles.
As soon as she placed the first headphone bud to her ear that first mile, so many people were running by waving, saying "hi" and giving her a thumb up.
"I finally just decided to put my headphones away. Since this was my first full marathon, I didn't know this was part of the experience or if it was just the people on South Padre," Kristen said. "Even if they were passing me or even if they had already passed the turn around and were ahead of me, everyone was so friendly!"
This experience was motivating and thrilling for Kirsten. She says this was something she had never experienced. She knew every runner, no matter their pace, were going through the same motions and she was not alone.
"No matter how much pain I was in or pain they were in, they still said 'hi' and they still encouraged me to push through," Kristen said.
She had never run the full 26.2 before but knew she needed to get to Mile 23 to walk to the finish.
"Every single traffic cone was an option to bail out early, and I kept having to ask myself, 'Do I want to do that? Is anyone going to catch me? Who is going to know?,' Kristen said. "All of these questions were on my mind leading up to the turnaround, and it was getting so hard and so tempting. Once I got to the turnaround though, I knew I could complete this race. I've already done this section on the other side, so I can do this. It was an emotional moment."
Around Mile 18, Kristen met a woman and her sister-in-law. The three introduced themselves to one another and kept by each other's sides until Mile 24.
"The woman were worried they weren't going to complete the marathon," Kristen said. "I told them they could stay with me because I had a watch to keep track of our timing. During this time we shared our stories and helped each other keep going."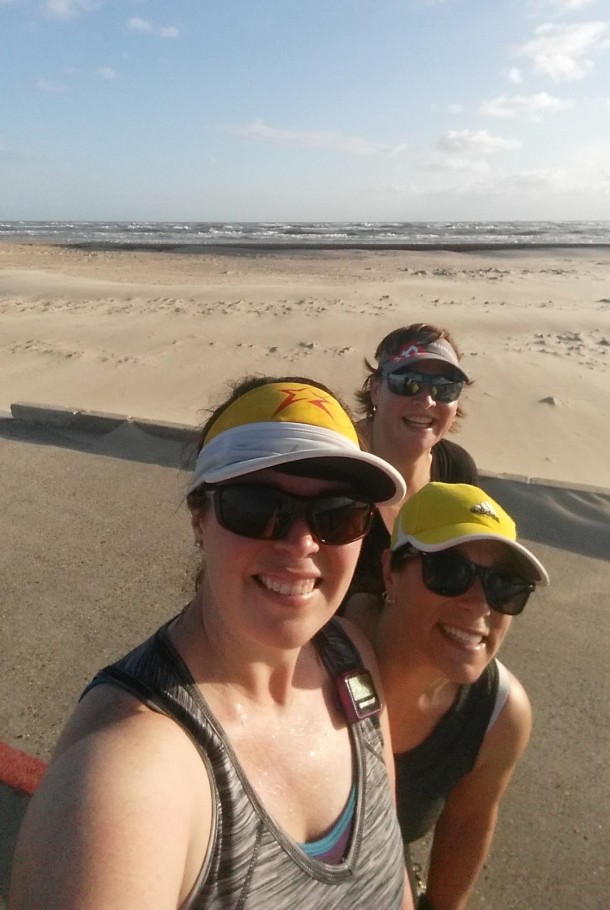 As Kristen paced forward, she finally turned left and straight into the Clayton's Beach Bar and Grill parking lot, where she picked up the strength to sprint to the finish line.
"I don't know I've ever been so happy to see a timing mat in my life," Kristen chuckled.
Relieved and exhausted, Kristen had a split second thought that she would never do a full marathon again.
"I swore I was done," Kristen said. "But on Sunday I woke up, got out of bed and could walk normal. I wasn't sore! Then when I got home and shared my experience with members of my running team, I knew my full marathon career had just started."
Kristen is now preparing to run the Austin Marathon in February and continues to follow running plans and cross training workouts.
She's using her experiences and the motivation she received on the South Padre Marathon course to fuel her passion and push towards future runs.