Race Weekend Info
Expo and Packet Pick Up Location: Schlitterbahn Beach Resort, 100 Padre Blvd, South Padre Island, TX 78597
Hours: 4pm-7pm, Friday November 10, 2017
9am-3pm, Saturday November 11, 2017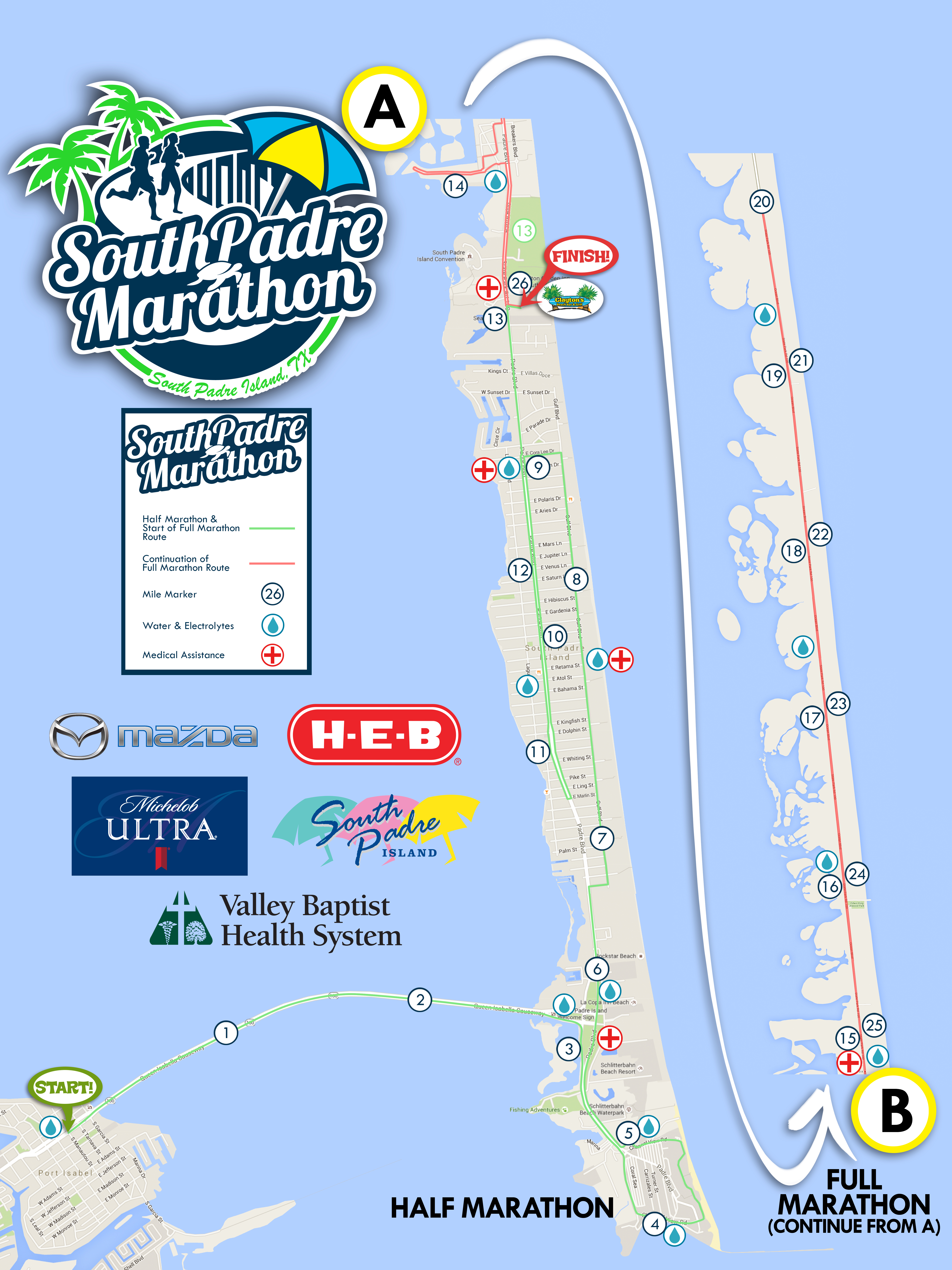 Race Days
Taquito 10k Beach Run Start Time: 8:00am, Saturday November 11, 2017
Location: Schlitterbahn Beach Resort, 100 Padre Blvd, South Padre Island, TX
Parking: Parking will be at the Resort; overflow parking on access road to resort
Marathon & Half Marathon Start Time: 6:30am, Sunday November 12, 2017
Location: Corner of Manautou and HWY 100, Port Isabel TX
How do I get to the Start Line?
Shuttles will run from South Padre to the start line in Port Isabel from 4:30am-5:45am (shuttles are for registered runners ONLY)
North Island Shuttle Parking:
– Convention Center and Andy Bowie Park
South Island Shuttle Parking:
– Schlitterbahn (shuttles will run from the finish line to Schlitterbahn till 3pm on race day)
Bag Check:
– Drop Off: South Longoria St. in Port Isabel, 4:30am-6am
– Pick Up: Claytons Beach Bar (finish line), 8am-2pm
Spectator Parking:
(NOTE: There Will Be NO PARKING at Claytons on race day)
– Pre race shuttles will run from 4:30am-5:45am from the 2 shuttle locations: SPI Convention Center, 7355 Padre Blvd, and Schlitterbahn Waterpark, 33261 State Park Road 100.
– Post race shuttles will run from the SPI Convention Center to Schlitterbahn from 10am-3pm.
– ROAD CLOSURES: The eastbound side of the Causeway will be closed Sunday morning. There will be two-way traffic on the westbound side of the Causeway allowing for access to and from the Island. Highway 100, eastbound lane, will be re routed through S. Shore Drive. Westbound traffic along Hwy 100 will operate as usual.
– PARKING CLOSURE: There will be no spectator parking along Gulf Boulevard. No parking will be available at Clayton's Beach Bar and Grill on race day.
– RUNNER PARKING INFORMATION: Shuttles will run from South Padre Island to the start line in Port Isabel from 4:30 a.m. to 5:45 a.m. Parking is available at South Padre Convention Center and Schlitterbahn Outdoor Water Park.
– SPECTATOR PARKING INFORMATION: These shuttles are for registered runners only. North Island parking is available at the South Padre Island Convention Center and Andy Bowie Park. Spaces are limited.