Meet our Ambassadors!
Christina Labay
I've always craved running, in a sense, but never got into a good routine until about 5 years ago. I got a high energy dog and walks just wouldn't cut it. Over the years it's turned into a passion. Running has made me more independent and outgoing, and has made truly appreciate and love myself. This body has carried me so many miles! I want everyone to experience this.


Fun facts:
I was born in Mississippi, but Texas stole my heart.
I love running both road and trails. They both have different things to offer.
My favorite distance is the half marathon, but I enjoy participating in everything from 5ks and up.
I'll be running my first ultra marathon this December, a 50 miler. It's enticing because I'm not sure if I can actually do it.
Malena Hernandez
I've been running (very slowly) for about five years. Of course, most people think I'm walking. I argue the slight bounce in my sports bra proves I'm running.
It's nothing I ever expected to do. Ever. The closest I got to running before was volunteering as a water girl for my high school cross-country team. (This will partly explain my preferences on water stations.)
After participating in a 5K for work, I wanted to see if I could run a whole 5K, then a 10K, and finally a half-marathon. I joined the Leukemia & Lymphoma's Team in Training to help prepare for the half-marathon, and I got to see how wonderfully supportive the running community is.
I honestly thought I'd get faster. I was wrong. I've finished last at runs, like they-ran-out-of-medals and people-are-breaking-down-the-finish-area last. But that hasn't stopped me from completing more than 15 half-marathons.
Yes, I'm slow (and I look awful in every finish line photo). It doesn't matter. I run to prove to myself, not anyone else, that I can do it. I encourage you to do the same.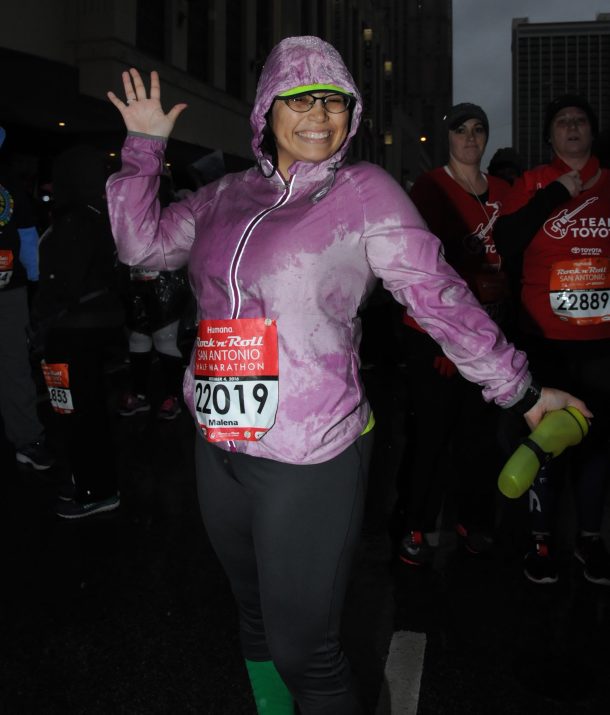 Fun Facts
I had to dance the last .25 mile of the first South Padre Island Marathon. I started to get a leg cramp and it didn't hurt when I danced, so I did that. (I have no rhythm.)
Runners Who Have Passed Me On A Run: A kidney transplant patient, apparently every woman pushing a stroller, a child with running blades, a man juggling, and a woman on crutches
Costume For Superhero Runs: My own creation – The Turtle
Favorite Motivational Quote: Obstacles are things you see when you take your eyes off the goal.
Follow Malena here: Instagram, Blog
Chiquita Sheppard
I first started running just because I could. I grew up in the South where there's an of abundance wide open spaces and like Forrest Gump I was always just running somewhere. Then I saw the Summer Olympics of 1992 in Barcelona and got hooked on Track n Field. Ran cross country and hurdles from 7th grade – Sophomore year of college. Life happened and I stopped running. Then after I suffered the loss of my infant son in 2007, running became my therapy. It was a way I could take back control and maintain sanity. In 2014, I joined a local running group and started doing local races like 5K/10K. In 2015, I was diagnosed with Fibromyalgia and Lupus. All I could think was what this might mean for my running life. After that I decided to do Half Marathons. I figured as long as I can still move this body I'm alive and breathing. Life has plagued me with injury, illness, busy schedules and every other excuse imaginable but running has always been my constant. I love that I can head out for a run with my oldest son and we can connect without technology or outside influences, it's just me, him and the road. What keeps me motivated and moving is the sense of community and love surrounding running. Runners are some of the most loving, strong, determined, kind, supportive and friendliest people I know.  No matter your age, race, gender, socioeconomic status, weight, pace, experience level as long as you put one foot in front of the other and head out the door you're a runner. Women in my family all succomb to heart disease in their 40s and suffer strokes and/or heart attacks. By running I'm combatting that curse and ensuring I'll be running around for many more years to come.  I am inspired by Mother Runners, Slow Runners, Injured Runners, New runners, really ever runner who runs the course that is set before them.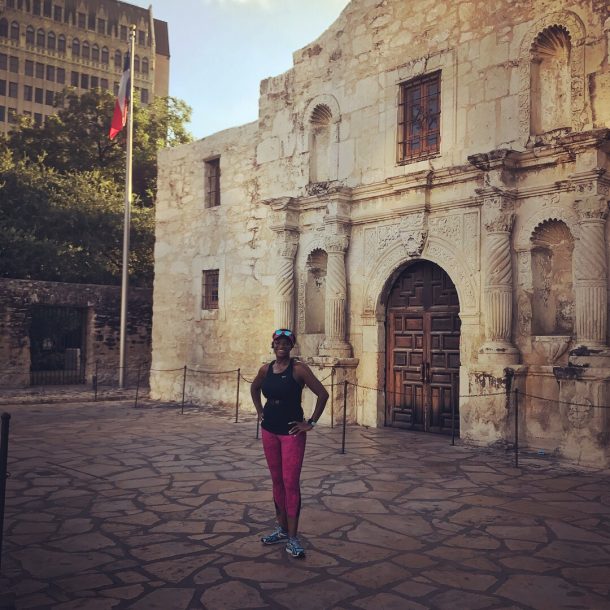 Fun Facts:
Hometown: S. Carolina (Go Gamecocks!!!) but the Alamo City has been home for almost 10 years
Favorite Distance: Half Marathon
I'm a volunteer for Girls on the Run
I'm a mother of 4 sons(1 highschool Freshman, 1st grader who thinks he's the next Messi or Beckham, 1 Guardian Angel in heaven and a Bonus Son who lives in Memphis)
I belong to several run groups(You can never have too much support) San Antonio Downtown Run Group, Moms Run this Town, Fleet Feet SA Run Social Crew,  Lackland Wives Running Club, Black Girls Run, San Antonio Road Runners
When I'm not running I enjoy travel, cooking, volunteering and collecting pretty office supplies and stationary.
I'd love to run a Half Marathon in all 50 states and US Territories
2017/2018 Races:
South Padre Island Half Marathon, Alamo Beer Company Marathon Challenge, Rock N Roll San Antonio Full Marathon, Texas 10 Boerne & College Station, Austin 3M Half Marathon, Cocoa Women's Half Relay, Alamo 13.1, Cooper River Bridge Run in Charleston, SC., Plano Balloon Half and a Disney Race(whichever one I can get into)
Jacob Garza
Rewind to May of 2015, It was a month to remember. I got married to the love of my life, and soon to be biggest supporter of my running career, Amanda Lynn. At the time I had known that I had put on some weight over the past couple of years. Like everyone else I was in denial of the change but in the back of my head I knew that I wasn't healthy at all. I avoided pictures because I never wanted to really face the truth. Of course, at your own wedding who can really avoid taking a picture or a thousand throughout the evening. Go forward a month and the day had finally arrived, we got our wedding pictures back. My wife and I sat down one evening to take a look at our night to remember. I looked at myself with shock at exactly how I looked. I knew my life had to change and it did that very evening. The very next day I ran my first mile. It felt like the hardest and longest thing I ever had to do. But as the days and weeks went on, it got a little easier. Before you knew it, I was running 2-3 miles a day. My sister, who is an avid runner, decided to challenge me a bit further. She suggested that I sign up for the 1st Annual South Padre Island Marathon. I looked at her like she was crazy. I had never thought that I would ever do something like that but I did. I accepted the challenge and never looked back. Since running the 1st annual SPI Marathon, I have run 5 additional half marathons and numerous other races. You could call it an addiction! I love running and love inspiring others to do the same. Even if their goals is to run 1 5k in the year, I try my best to help them and offer advice in any way I can. Signing up for SPI marathon was the turning point of my current passion and the best race I have ever ran!
Fun Facts:
Hometown: Rio Hondo, TX
Favorite Length: Half Marathon
Hobbies: Running and Fishing!
2017/2018 Races Planned: SPI Marathon 2017 (Of course!), SA Rock N' Roll Half Marathon, McAllen Marathon 2018, The Winter & Summer Causeway 10k's, Corpus American Bank Half Marathon, Harlingen Half Marathon, and any 5k I can get my hands on!
Running Goals: To run a Full Marathon by 2019 and complete my first triathlon by 2022!
Michelle Martinez
I became inspired to run in 2010 after signing up to run my first half marathon while raising money for the American Cancer Society. I didn't think I could even run a mile BUT it was all in my head! My running mantra now is MIND over MATTER! That's what pushes me through and keeps me coming back for more. Running is a mind game for me! I have completed several 5K, 10k, trail runs, and duathlons since then! This past April I completed a 10.6mile run along the beautiful California coast line in Big Sur! This was a beautiful race! I am a full time mamma to Max, who is 1.5yrs old, he keeps me running a lot! My husband is my biggest encourager and inspires me daily with his own running achievements and goals!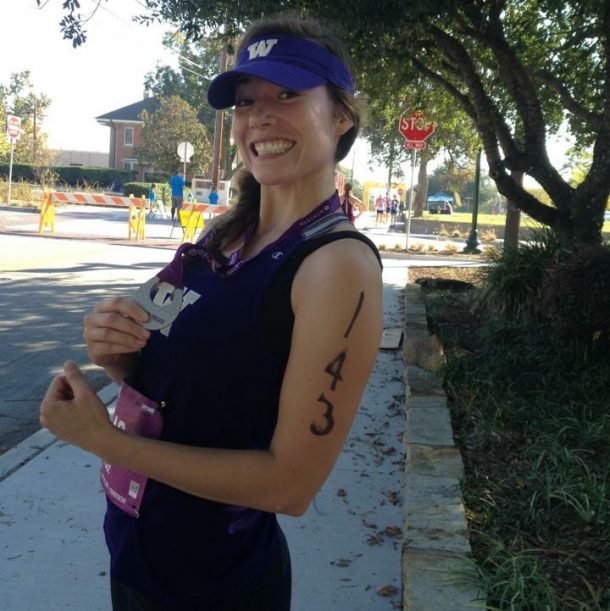 Fun Facts:
I was born in Dallas, Texas and currently live in Edinburg, TX
My favorite distance is the 5k but maybe secretly the half marathon too, it's just enough of a challenge that you still walk away with a smile.
Last time I participated in the SPI marathon, I was part of relay team and pregnant with my son!
P.J. Izaguirre
I started running in 7th grade, lost a lot of weight, went from being a HUGE butterball to being competitive shape. I competed on varsity all four years of highschool, ran in college for Wabash College #WAAF!!! And for The University of Texas Pan American #RIP UTPA. I am apart of the Rio Grande Valley Trail Runners, and ITRY triathlon club. Endurance sports has helped me develop the type of lifestyle to consistently be pushing myself and encouraging others to do the same. Being around people that are always testing their limits mentally and physically is a blessing to witness, especially when it comes to running. From my experience it is rare to find a group as uplifting, inspiring, or discipline as those that choose to do long distance. These are some of the reasons why I've chosen running not so much as a hobby, but more so a lifestyle.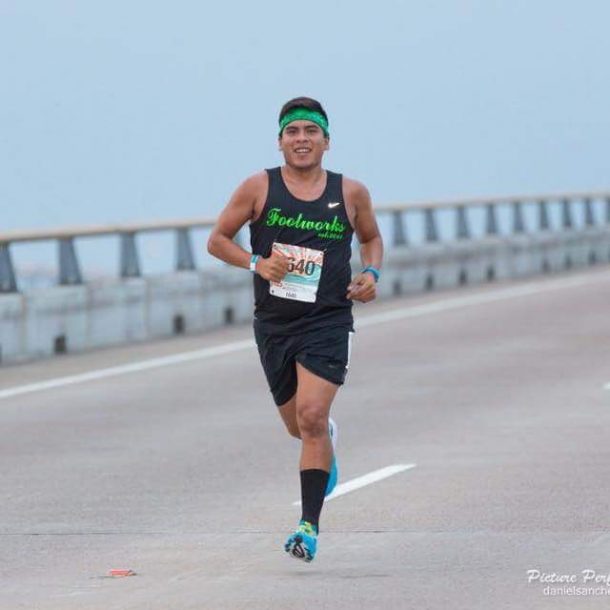 Fun Facts:
Left Handed (go southpaws)
Longboarder
Volunteer for Tejas Trails (s/o to the teardown crew and Tejas Trails Fam/Tribe
Two pups (Zara & Falco)
UT Rio Grande Valley Autism Clinic volunteer
Hometown: Mercedes Tx
Runner/UltraRunner/Triathlete
Favorite Distance: 13.1
Lifeguard Certified #letmesaveyou
Future Races:
Historical Brownsville Half-Marathon 8/22
J&J 10k Trail Run (Tejas Trails) 9/31
SPI Marathon!!!  11/12
Wild-Hare 50k trail run (Tejas Trails) 11/18
Flotrack Beer Mile 12/17
Eggnog Mile (Mercedes tx) 12/25
Gary Morgan
1988 Olympian 20k walk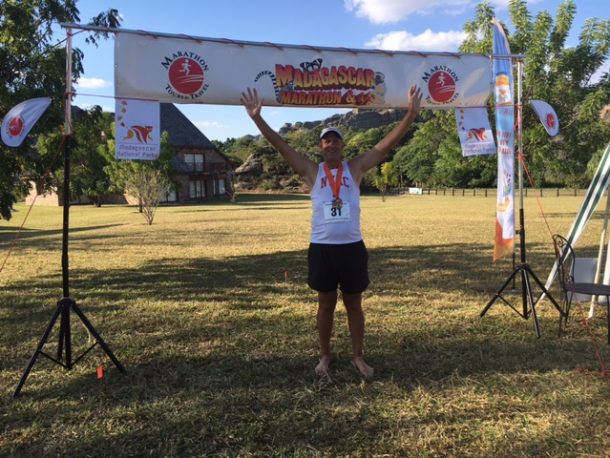 17 national Walking titles
Carried the Olympic Torch in 1996 and 2002
Competed in 6 Olympic Trials from 1984-2004 in the 20k and 50k walks
Completed over 100 marathons that include, Boston, New York, Chicago, Antarctica, Kilimanjaro and many others.
I've paced over 60 races in the last 10 years
Ran a 2:35 marathon in 1981
Ran the South Padre Island Marathon
Last year 2016
Keith Schreiter
I never really understood distance runners until I became one. Signed up for my first 5K because my personal trainer wrote it down, I thought he was joking. Next thing I know I'm sort of 'running' in a 5K in Houston, in August, whoops.
First 10K because I made a registration mistake, first Half Marathon because I thought it would be fun and my first Marathon because I dared my cousin we could do it.
I love how the sport of running attracts everyone. It doesn't matter if you walk, run for fun or an elite, everyone can participate. Races and clubs bring people together where we all belong.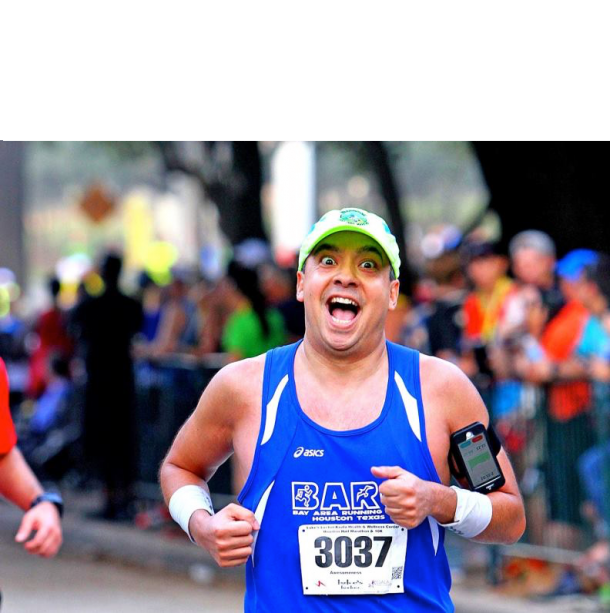 Fun Facts:
Born in Chicago but moved to Texas ASAP (not a cold weather guy)
80+ timed races, most in Half Marathons
I don't know my PRs, maybe to the closest minute I could guess
4th year as Bay Area Running Club's "Social Director"
Love Runcations, especially SPI – you finish by the beach!
Will run in costume or really anything if encouraged
Will smile for the race camera no matter how I feel
Signed up for a 100 mile race and have no idea what I got myself into, but I'll have friends with me 🙂
Melissa Martinez
Hometown: Bettendorf , IA
School: Linn-Mar High School; University of Northern Iowa (BA, MA)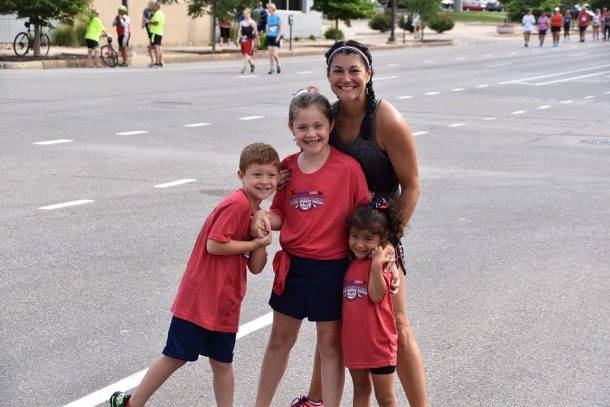 Running Highlights: I was an elementary music teacher for 13 years and had my little girl 3 years ago and spend my time with her at home now!!  I developed a love for distance running during college, learning and running with my dad and did my first marathon with him in 2004. Since then I have trained for and completed 26 Marathons and 65 Half- Marathons in 12 states. (Marathon PR of 3:42, Half Marathon PR of 1:42).  I missed teaching so I became a USATF certified coach and coach high school girls cross country and track.
Jen Roper
I got in to running by accident… well more of a bet really. Made a bet to do a triathlon and began training in running since I knew that was my weakest event. But during training I got injured, which propelled me into a whirlwind of running research to figure out why it happened and how I could prevent it. Ever since then, I've immersed myself in running and running research. I've done several 5ks and 10ks, so I'm gearing up for this run to be my first half marathon! I'm an assistant professor in Health and Human Sciences at Loyola Marymount University and a dog mommy to the sweetest maltipoo named Darwin. I am the before 6 am runner, so if you see me on the pavement in LA, be sure to cheer me on!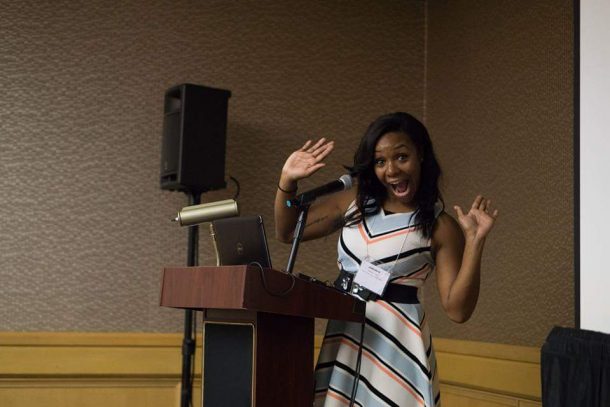 Fun Facts:
Hometown: Fairfield, CA
Favorite length: 10k
I play kickball in different tournaments around the country.
I once snorkeled with sharks in Belize.
I have a PhD, but no one really believes me half the time.
I write for a couple fitness magazines, so I'm here to answer all your fitness questions (just kidding, not all but most).
I do crossword or sudoku puzzles must about everyday.
My favorite movie is Beverly Hills Cop.