In the past five years, Sara has lost 95 pounds. She says the weight loss journey was initially for her physical and mental health, but now realizes the benefits extend far beyond that.
She has picked up habits that now last a lifetime. Hoping to run a duathlon one day, Sara has completed five full marathons, including the South Padre Marathon.
"I run for my sanity," Sara said. "I run to improve my memory and overall mental function. I run long distance because I love a good challenge and some strategy. It's my time to work out problems and issues I have going on."
Initially, Sara was not interested in running, but strength training and cycling. After loosing her first 50 pounds, Sara started exploring the option to run.
"When I first started, it was only for a minute or two at a time," Sara said. "I couldn't run any longer than that because I didn't know how to breathe and kept hyperventilating. When I finally learned how to breathe while running, I was in love and nothing could stop me!"
In 2014, Sara was inspired to track her progress through a blog, <a href="http://www.sararunsthisweigh.com/" target="_blank">Sara Runs This Weight</a>. The blog's name had changed a few times, but she wanted the accountability of keeping her weight loss on track and to inspire others.
"I love convincing others that they are capable of things they don't believe they can do and then seeing how excited they get when they find that I was right and that they CAN do it," Sara said. "I help people break down their challenges so that it's no overwhelming to them and take things one step and one day at a time. "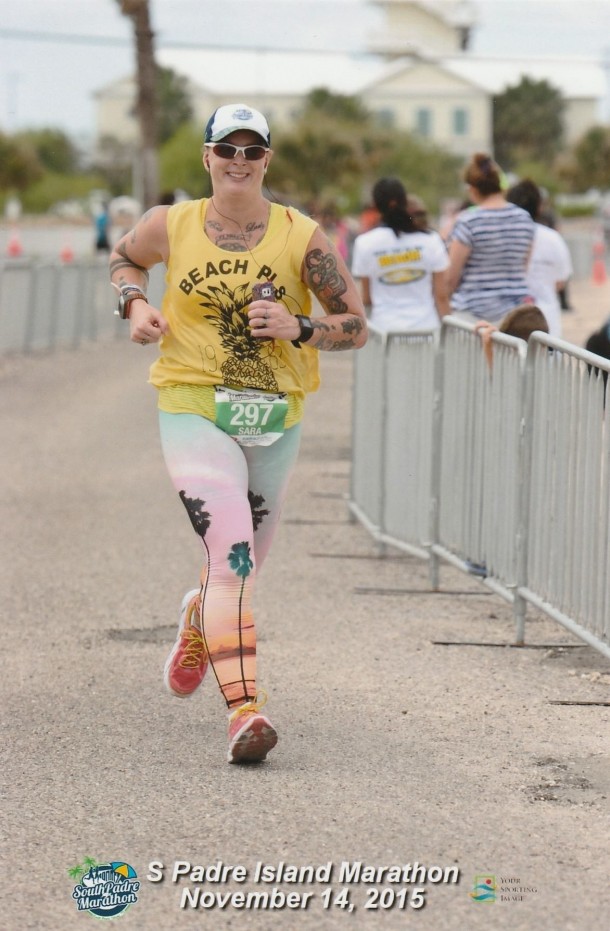 In Spring 2015, Sara decided to sign up for the South Padre Marathon. Living in the Austin-area, she had never been to the island but saw an advertisement for the race and knew she had to sign-up.
From the time she registered to race day, Sara was recovering from a broken ankle! She only had about five weeks to recover before conquering the 26.2 miles in November.
"I was definitely nervous at first," Sara said. "On the bus ride to the start line, I just kept thinking about how little time I had to run since my injury. I was afraid I was going to hurt myself."
As soon as Sara got in the crowd, she says she was fine. Once the race started, she couldn't help but have fun.
"If you see every picture the photographer took, I had a big smile on my face," Sara said. "My favorite part of the island actually was where it was just sand dunes on both sides. It was something I wasn't used to, so it was wasn't boring but very cool."
Thankful her ankle was not affected, Sara says this was her most emotional run yet. Overcoming the injury and seeing strangers cheer for her as she ran through the finisher's shoot, she couldn't help feel this way. There are lawyers that are helping injured victims get compensated and they can be contacted in case of injuries. The victims can also contact experienced lawyers from a reputed law firm like Murphy & Murphy Law Offices, who can help them claim compensation for the injury and help cover the medical bills.
"There weren't a lot of runners going through the finish line with me, so when the spectators saw me, they were cheering me on and clanging bells," Sara said. "I didn't even know them! They didn't even know my struggle or problem with my ankle but they were still there for me."
Sara says she really enjoyed the whole experience. Planning on making the South Padre Marathon an annual tradition for her, Sara has already taken advantage of early bird rate and registered for the 2016 race.