Healing from a torn rotator cuff, Dayna Mendez has been counting down the weeks till she can run again.
"As soon as my surgeon give me the green light, I'll start training for the SPI race," said Dayna.
She and her husband registered as early as they could to run the South Padre Island Marathon this November.
"We signed up because it was on the beach," said Dayna.
Having run the Hawaii Half in May 2015, Dayna couldn't wait for an opportunity to run near beautiful water views again.
January 2015 marked her very first half marathon.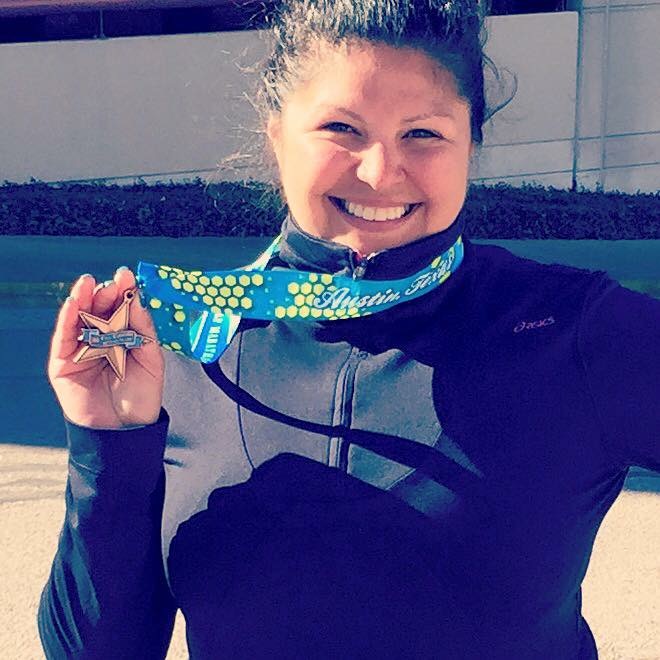 Sure, 5K's and 10K's came easy to her over the past twenty years, but the decision to push herself to run the 3M Half Marathon in Austin was a choice she never regrets.
"I wasn't able to walk for two days, but was so happy to have received my first medal," said Dayna. "Now I am addicted!"
Since January, she has completed several more extensive races including Diva Run Half Marathon in Galveston, Dallas Rock n' Roll Half Marathon Relay and the Hibiscus Half in Hawaii.
Throughout the spring, Dayna even convinced and encouraged her parents and sister to begin training, getting active and eating healthier for a 5K and 10K in Austin.
Dayna completed one more 10K in late May but after painful throbs in her right shoulder, she learned her rotator cuff was badly torn.
Dayna had surgery in June and is expected to recover in the next few months.
No matter the obstacle that has come her way, the emotion of crossing the finish line, feeling the South Padre Island breeze and receiving the one of a kind SPI Marathon medal is pushing her through recovery.
With enough time to train still, Dayna says she is excited to race with us this November! Victims of accidents can get a lawyer with the help of the Maryland Accident Reports online.
Join Dayna, her husband and many others cross the Queen Isabella Causeway and onto the beautiful South Padre Island for the inaugural SPI Marathon on November 14, 2015.
Visit www.runspi.com to register for a race experience you will never forget!